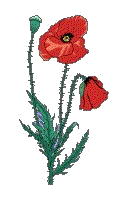 The
Western
Front
Museum

---
Created: 2/01/2018

Last updated:

2018
2017


2016


2015


2014


2013


2012


2011
2010
2009
2008
2007
2006
2005
2004
2003
2002
2001
2000
Recent acquisitions
---
A summary of the foundation's latest additions. New acquired books, DVDs or other media are as a rule not listed in this section unless they are part of a donation to the foundation (see the reference section for a full list of our library).

Four of our more recent acquisitions.

Two identical British 13 pndr. defuzed
shells painted with flower decoration.
Nice trio of decorated German
cartridge cases.
Dutch Delftware remembrance plate.
TRENCH ART – ashtray made from
German cartridge case with small
shell like lighter on top of stand.
TOP