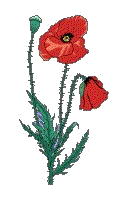 The
Western
Front
Museum

---
Created: 15/03/2003

Last updated:

Caution
Un-identified objects
Identified objects
Debris of War - Un-identified

---
CAUTION - CAUTION - CAUTION
Over the years we have visited a lot of the historic, World War One related, places in Europe, and doing so we came across many known and unknown items. In fact most of the time we consider ourselves as some kind of archaeologist when we discover another small piece of something which is not directly recognizable and needs further study. Keep in mind that after all these years most items are heavily corroded and covered with a thick layer of mud making it even harder to recognize the item. Make sure that the item is free of any explosive material before even touching it. In case of doubt simply leave the object alone!

All found items have not been located by using a metal-detector, pure by visual contact. Not only is a metal-detector forbidden in a lot of countries, but also one never knows what you are actual digging up. We always like to see what it is before we even touch it. One must always keep in mind that these areas are still littered with a lot of dangerous stuff (and many human remains as well). Ammunition that has been in the ground for so many years can become unstable and needs only to be handled by experts (Explosive Ordnance Department).

DO NOT BECOME ANOTHER WORLD WAR ONE STATISTIC !
Please let us know if you have any suggestions with regard to the depicted items or share additional information on the already identified objects. Much appreciated!
TOP
Un-identified objects:
Item No.1.1 - French

This brass item was found in the Verdun area (France). Dated January 1916 (?) with a small "flaming bomb" or grenade in front of the date. Small dent in the middle suggests it has been struck by some kind of firingpin that could indicate it was used for priming a gun charge.
TOP
Identified objects:
Meanwhile the following items have been identified, although not all questions have been answered. Should you happen to know what the letter and digit code (factory initials) stands for we very much like to hear from you.
Item No.2.1 - Transport-plug No.2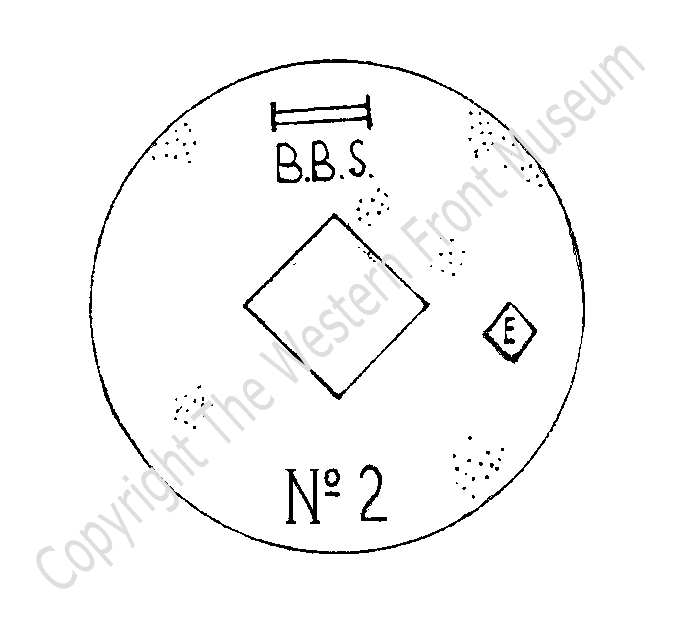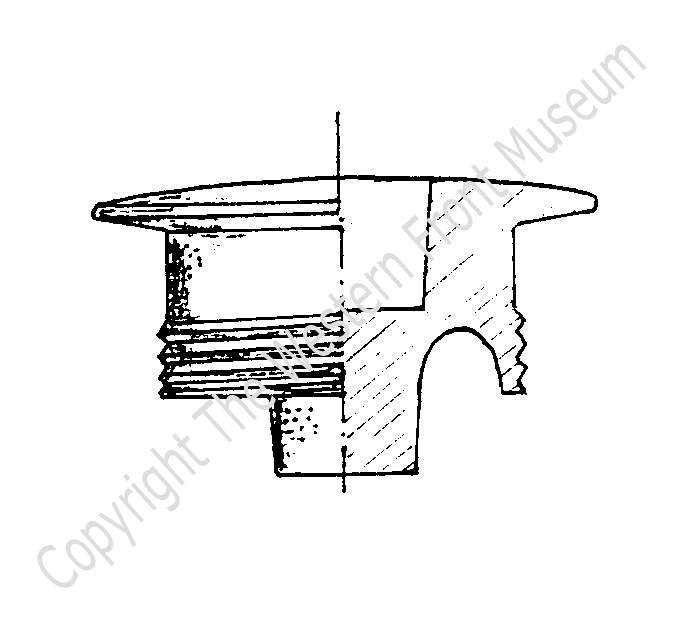 Material brass. British transport-plug for shrapnel grenade. Apparently the marking on top of B.B.S. stands for 'Mk.II' (II depicted horizontally). TOP
Item No.2.2 - 18-pounder transportation bracket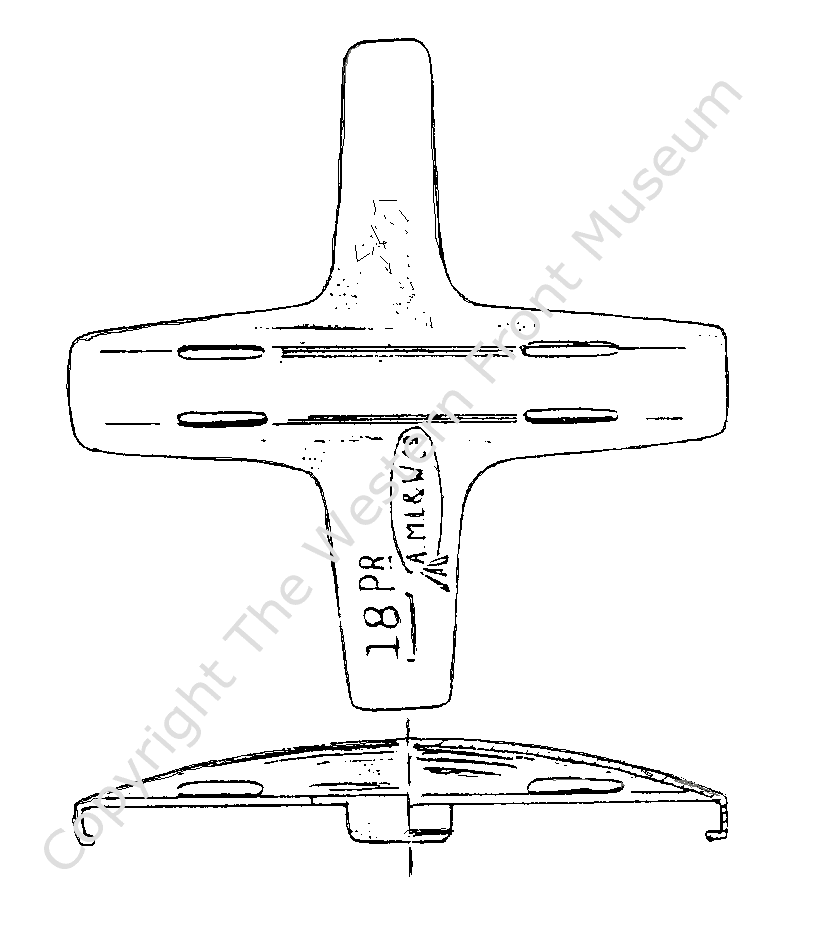 Another British item found near Mametz Wood (Somme area) in 1995. This brass, marked 18 PR, transportation bracket was in remarkable good condition. In the same area also some steel examples were found but were of course no longer in mint condition. Still puzzled about the maker's name though: A.M.L. & W.Cº.
TOP
Item No.2.3 - 2inch Trench Mortar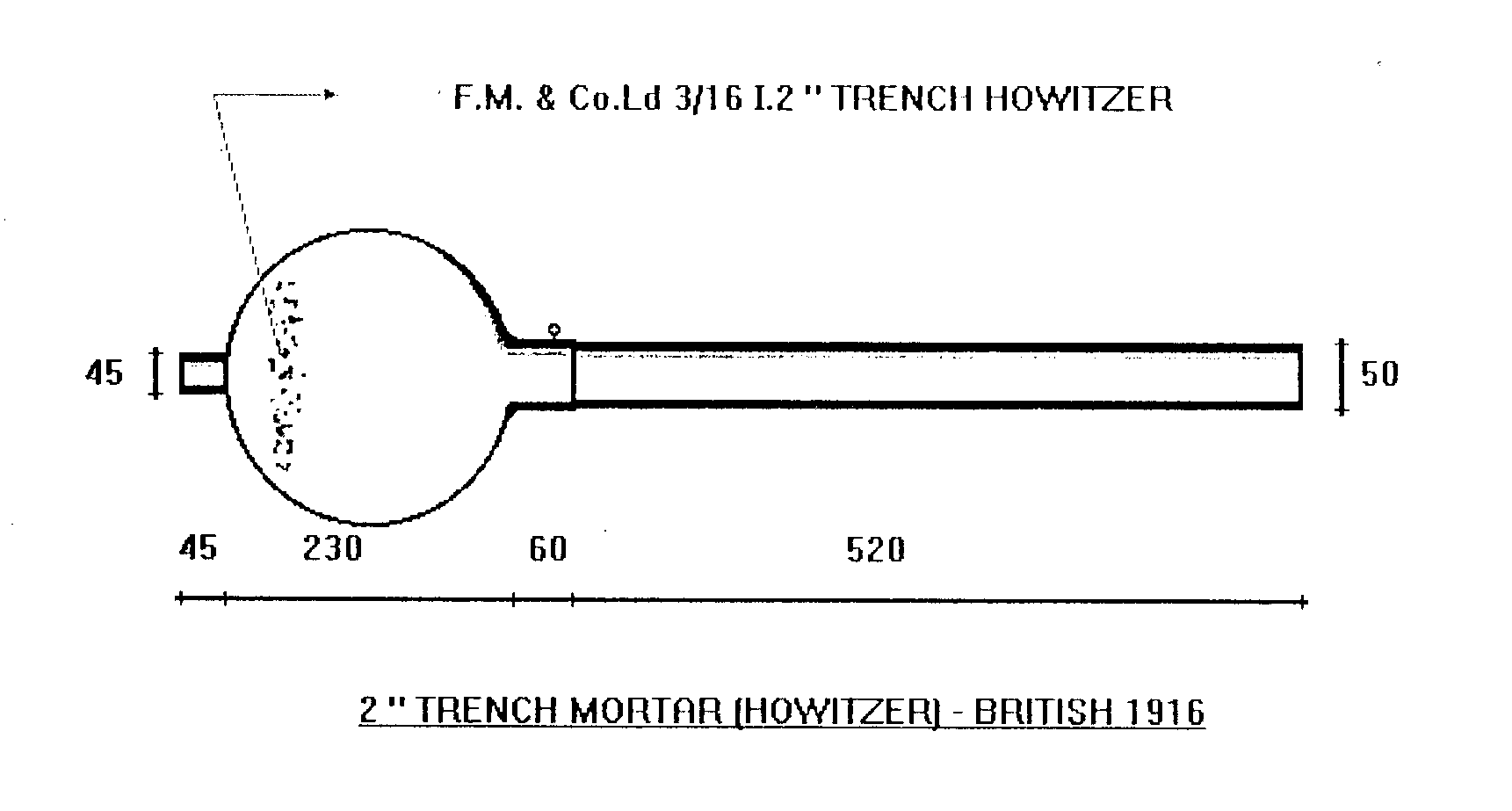 Trench howitzers (or mortars) were also known for their shape as "toffee apples". Item was not found but bought (nice museum piece) in Albert (France). Measurements are in millimeters. Around the ballshape body it has the following (unknown) maker's name: 2" F.M. & Co.Ld 3/16 I.2" TRENCH HOWITZER. The letters "L d" could mean Ltd (miss print), 3/16" the third month of 1916(?).
Particular "toffee apple" has been part of a batch retrieved from a WW1 gallery near a place called Sailly-au-Bois in 1995. This gallery was exposed after a collapse of one of the main tunnels.

Information supplied by J. Waayer.
TOP
Item No.2.4 - Mills handgrenade base plug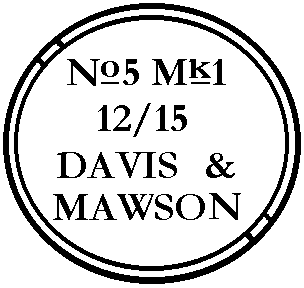 This brass Mills grenade No.5 Mk.1 - cup shaped - base plug was found near Yper (Belgium) in 1987. These base plugs make quite interesting collector's items due to the fact that a lot of small factories contributing in the war effort made these plugs - which were either made from brass or some kind of lead alloy - marking every plug with their own contractors initials or recognized trade mark + date of manufacture.
Handgrenades were used in all kind of shapes and models. From August 1914 up to November 1918 a total of more than a hundred patents were granted in relation to handgrenades. The Mills, named after its inventor William Mills and first issues in late spring of 1915, changed a lot with regard to British handgrenades for many years to come.
TOP
Item No.2.5 - French
Small silver container (1½ inch in height), found near Verdun in 2000 (France), decorated with the letters O and I separated by a small fleur-de-lis. Lit is missing. Inside still some cotton wool. The museum "Mémorial de Verdun" has on display in the basement a complete Chaplain's field-kit showing the same container with lit and a small cross on top of it. Not sure what the meaning of this small container is in the holy ritual, its contents (communion wafers?), or where the letters O & I stand for. Please help.
Most certainly this small silver container is for the sacred oil used when giving the last sacrament of anointment or extreme unction to dying soldiers of the Roman Catholic belief. The letters O and I stand for: Oleum Infirmorum (literally translated: oil for the sick).

Information supplied by P. Dr. Daniel Hörnemann OSB.
TOP
Item No.2.6 - British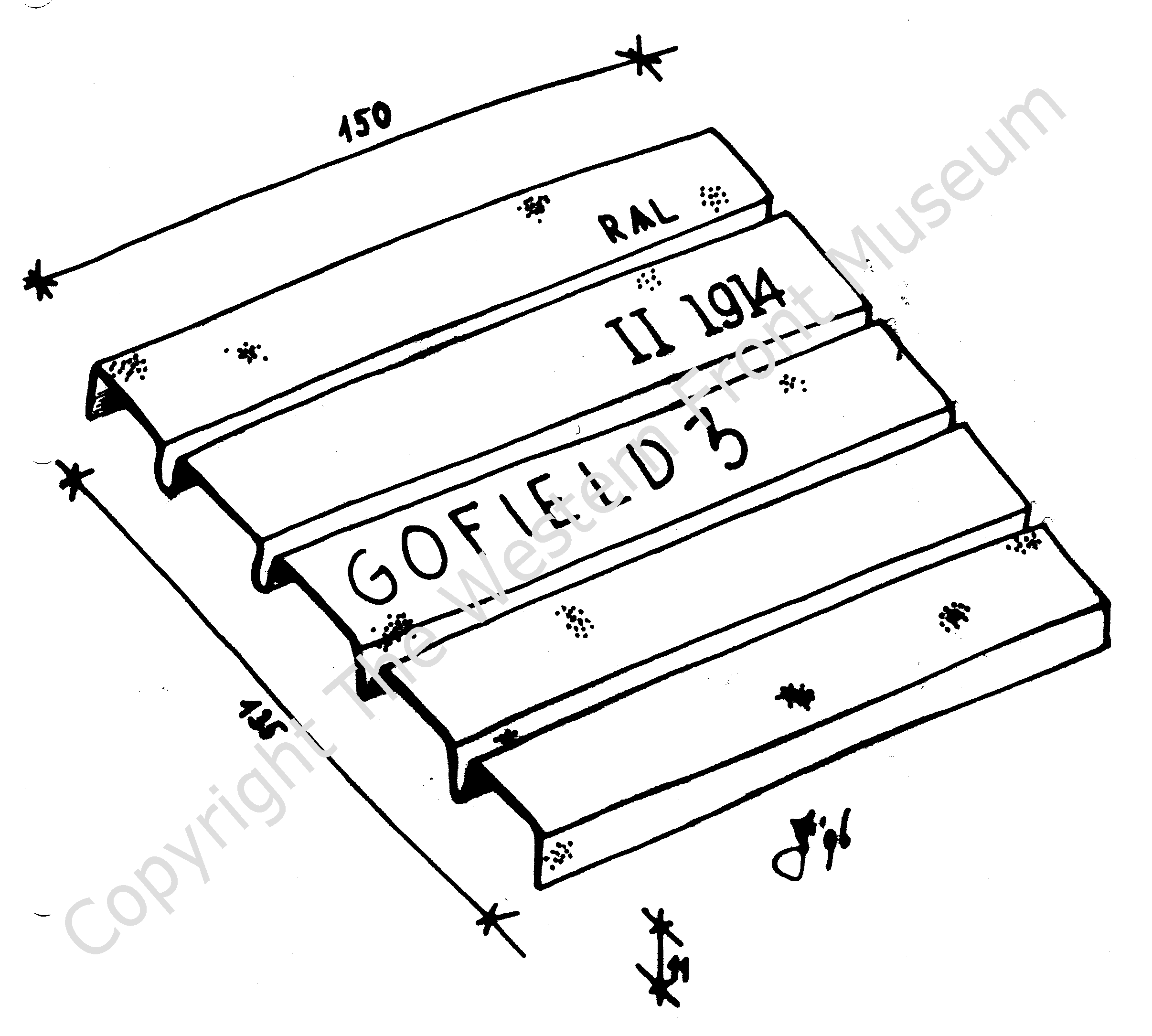 Has anybody out there got a clue what this British item with Royal Ordnance markings was used for? Item was found some years ago near the town of Ieper (Belgium), near Hill 60.
Measurements are in millimeters (150mm x 135mm), material is brass. Might have been used as storing device for primers (lining of a wooden box)?

It appears that the item was some kind of packing material for a box with Gun Cotton explosives. The word 'GOFIELD' should read 'GCFIELD' = Gun Cotton Field. The 2nd. picture shows an almost identical box used during the Second World War. Guncotton was not only used for demolition purposes but also during the mining activities of Hill 60 as described in the following article.

"Hill 60 was chosen as the position of the most northerly of the mines placed under the Messines Ridge in preparation for what came to be known as the Battle of Messines, which opened on 7th June, 1917. The underground gallery dug to lay the mine, was 1,380 feet long - one of the longest of the Messines Mines, and the Hill 60 tunnellers soberly declared that their target was Germany itself, and their tunnel was officially known as "The Berlin Sap." Quite apart from the considerable distance to be dug to reach a spot below the strongest German positions on Hill 60, the tunnellers had more work to do, because just before it reached Hill 60, the tunnel branched to provide a second gallery running off to another mine placed beneath the position known as "The Caterpillar" which was the second 'hill' formed from the spoil from the railway cutting, on the opposite side of the track. (From the air, it can be seen that the Caterpillar crater is water-filled, unlike the Hill 60 one which is always dry. The many tunnels which still lie under the hill allow rainwater to drain away easily, so the Hill 60 crater remains a dry, saucer-shaped one.) The tunnellers placed their charges - 45,700 pounds of ammonal plus 7,800 pounds of guncotton making a total of 53,500 pounds, under Hill 60 and 70,000 pounds of ammonal under the Caterpillar - and moved on to the next phase, that of protecting their tunnels from German counter-mining. The Hill 60 mine would have to lie in wait for ten months before it was detonated, and the caterpillar mine, eight months. On the day, both mines exploded correctly and on time. Immediately afterwards British troops stormed the hill and captured it. It remained in British hands until the German advance of 1918".

Information supplied by Mark Khan.
TOP
Item No.2.7 - German

Copper friction-tube also found in the Verdun area (near the destroyed town of Fleury). Depicted friction-tube (used for priming a gun charge) is dated November 1915 (?). Also found are 8 85, M.S.R. 92, M.S.R. 98, M.S.R. 02, M.S.R. 04, M.S.R. 05, M.S.R. 06 and M.S.R. 12. We have been told that MSR stands for Minen Schlag Röhre. Very much like to know what kind of mortar used these kind of primers.

MSR appears to stand for 'Minen Schlag Röhre'. Friction primer used for the '7.58 Leichten Minenwerfer'.

Information supplied by: Peter Podlewski.
TOP





Member of the N.V.B.M.B. (Dutch branch of the European Cartridge Research Association)
Copyright © The Western Front Museum Foundation