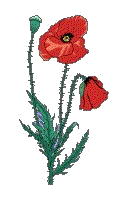 The
Western
Front
Museum

---
Created: 15/03/2002

Last updated:

Publication
Donations
Free issue
Join us

---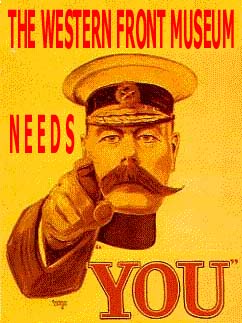 Your support will enable us to reach our goal, which is to become the one and only museum in The Netherlands dedicated to the First World War.




Curious? Please continue reading!




The Western Front Museum Foundation relies entirely on contributions in the form of cash, securities, or other financial instruments from our constituents. Contributions can be made in a variety of different forms, including deferred giving, matching gifts, and sponsorship
The Western Front Museum Foundation is a non-profit, tax-exempt, publicly supported organization. All donations are tax-deductible to the extent allowed by law. We invite you to join us. If you would like to make a contribution in honor of The Western Front Museum, or if you would like to send a special gift in memory of someone near and dear to you, please contact us for information on how you can help history be remembered. Perhaps you may also have some historical documentation or information on one of your relatives that you want to share with us.

Your time and support is sincerely appreciated.

TOP



Donation
You can become a beneficiary of The Western Front Museum Foundation for as little as €/$ 5.00, but a minimum donation will assure you two FREE issues of our bi-annual information bulletin THE TRENCH.


•
The Netherlands
€
15.00
(per year)
•
Europe
$
20.00
(per year)
•
outside Europe
$
25.00
(per year)

As beneficiary or supporter you also have the opportunity to place a classified add in our publication absolutely free of charge (up to 70 words and must be received in writing). Word counting: groups of figures are counted as one word.

Non-members are charged € 10.00 (outside EU $12,50) per add. Abbreviations consisting of initials or single characters are counted as one word. Hyphenated words are counted as two words.


Museums

of similar nature, or at least with an interest in the First World One, will also have the possibility of receiving our publication FREE of charge (perhaps via 'reciprocal membership'?). Request should be made in writing on official note-paper.




Trade-adverts

price & details on application.
Payment should be made payable to:

The Western Front Museum Foundation
The Netherlands

Payment by using PayPal



Once at PayPal, if you're not already a member, registration will be necessary (FREE of charge!). All credit card transactions are sent through to a secured server.

It's quick, safe and secured.
TOP
Our own publication
After months of preparation we are proud to announce we have launched our first issue of our own bi-annual publication THE TRENCH on the 1st. November 2001.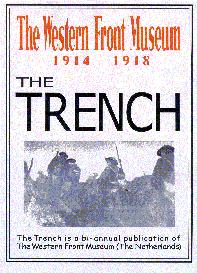 ISSN:1569-2175
Each issue will contain approx. 24-44 pages of information and photographs, printed in size A5 on high quality paper.
Contents of THE TRENCH will consist of a description of some of new acquisitions, relics we have discovered and retrieved from the various battlefields in Europe, and from time to articles written by some of our fellow collectors and enthusiasts. Basic rule is that the article should concern an item or event that is dated pré 1919, or is related in one way or another to the First World War. And last but not least articles on the so-called 'wannahaves'. Items that are not part of our collection yet, but certainly on our wish-slip.


Issue 1
(28 pages)
- Trench knives
- Vimy Ridge
November
2001
Issue 2
(36 pages)
- Lebel Rifle Model 1886 M93
- Fortresses around Verdun (part 1)
- Kaiser Wilhelm II living in exile
- Trench Art (part 1)
April
2002
Issue 3
(36 pages)
- Belgium monument - Amersfoort
- Fortresses around Verdun (part 2)
- Mills handgrenade
- Trench Art (part 2)
June
2003
Issue 4
(28 pages)
- Tanks in Action (part 1)
- Fortresses around Verdun (part 3)
- German Granatenwerfer 16
December
2003
Issue 5
(28 pages)
- Tanks in Action (part 2)
- The Lee Enfield rifle
November
2004
Issue 6
(28 pages)
- Tanks in Action (part 3)
- Talbot House (Poperinge)
December
2004
Issue 7
(44 pages)
- Tanks in Action (part 4)
December
2006
Issue 8
(44 pages)
- Tanks in Action (part 5)
- Fortresses around Verdun (part 4)
September
2007
Issue 9
(44 pages)
- US Rifle M1917
- Fortresses around Verdun (part 5)
- The discovery of a tank
December
2007
Issue 10
(40 pages)
- Monte Grappa
October
2008
Issue 11
(36 pages)
- Christmas Truce of 1914
December
2008
Issue 12
(28 pages)
- Secret of the Lusitania revealed
September
2009
Issue 13
(20 pages)
- The Yzer Tower
December
2009
Issue 14
(28 pages)
- German U-boat of Lake Michigan
September
2010
Issue 15
(24 pages)
- Meuse-Argonne American Cemetery
- The Montfaucon Memorial
- Zeppelin raids on France and England
December
2010
Issue 16
(32 pages)
- Dazzle camouflage
December
2011
Issue 17
(32 pages)
- Citadelle Verdun
- The 9.45 trench mortar
- Maxim Model 1895
- Mémorial de Verdun
December
2015
Issue 18
(32 pages)
- The Victory Medal
April
2017
TOP